Veggie.in: Health and Wellness Website for Plant-Eaters
Summary
Vegetarians require particular resources as a result of their dietary needs and restrictions. This includes information about health and nutrition, recipes and restaurant information. However, vegan community is an underserved group when it comes to internet representation on the current market. For example, most general recipe sites don't provide convenient flags like "vegan" or "gluten-free" for vegan users. That's why the team wants to create Veggie.in.

Veggie.in is a health and wellness website about recipes, restaurants and reviews for plant-eaters. The core value of the site is promoting the idea eating consciously and shopping responsibly. Vegg.in is building the largest online community of plant-based eaters. We source recipes and share content from across the web while introducing users to new YouTubers, bloggers, brands, local businesses and restaurants.
---
Lead UX/UI Design
Contributions include creating information architecture, user research, user flows and high fidelity mockups.
Cross-functional Team
Collaborated with 2 Product Managers and 1 Web Developer.
Feb 2014 to May 2015
The 4 members teamed up after attending Startup Weekend Greenovations Seattle and continued to work on the website as side project.
---
Research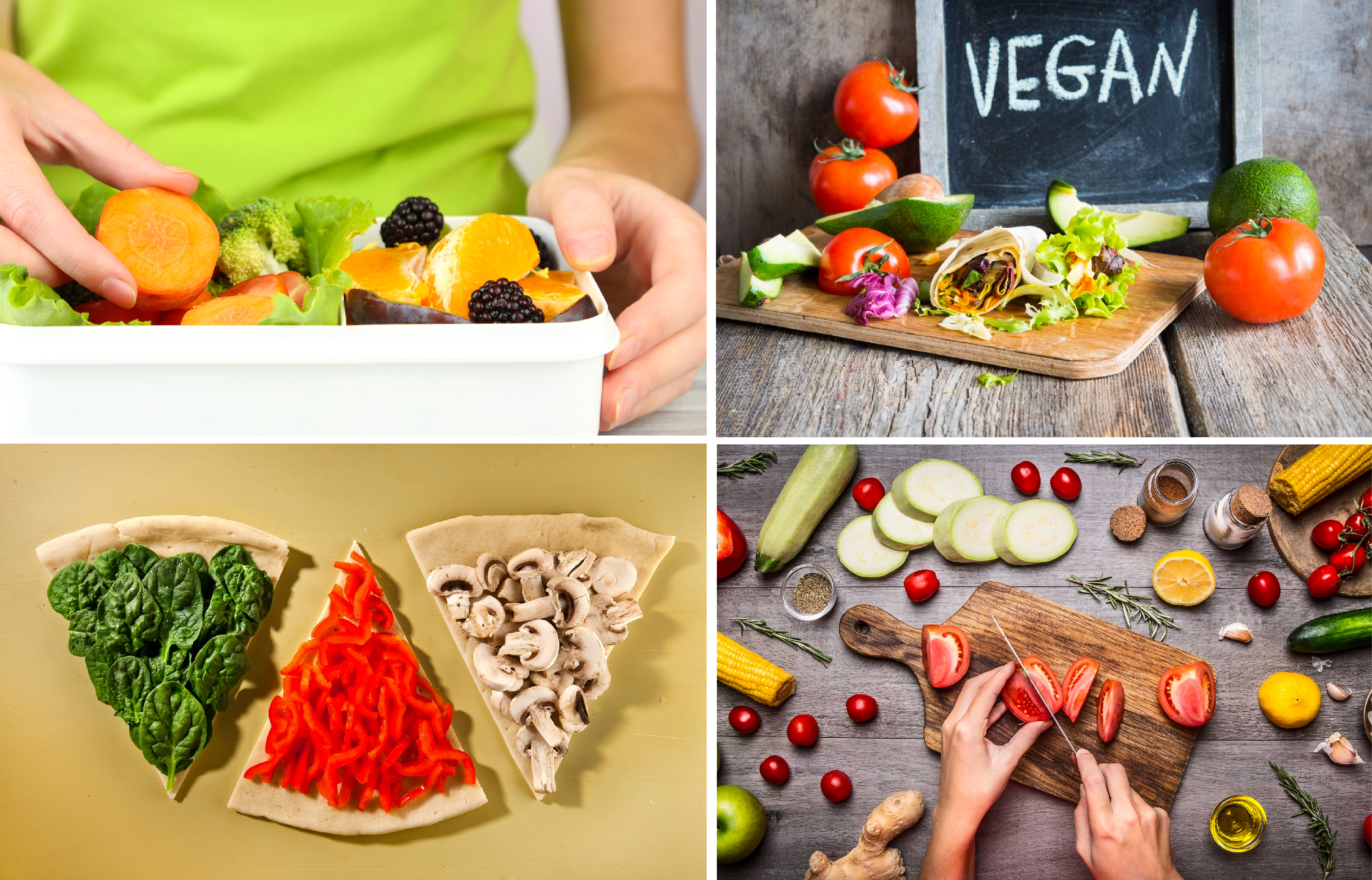 The Project Goal is to research and understand unique challenges about the recipe seeking behavior of vegan in their daily lives. Our project began with site visits to vegan forum, vegetarian recipe sites to become more familiar with the environment and the context. We interviewed with 5 vegetarian about the opportunity space and determine areas in which problem we could solve based on our design. My team explored:
What interesting vegan blogs do vegan peruse?
What do vegan find are the most engaging features?
What things inspire vegan?
What information are vegan generally trying to find?
The design of the site was an iterative and collaborative process with:
Creating the information architecture
Sketching many paper prototypes
Creating wireframes and prototype
Usability testing
---
Sitemap
Sitemap/Information Architecture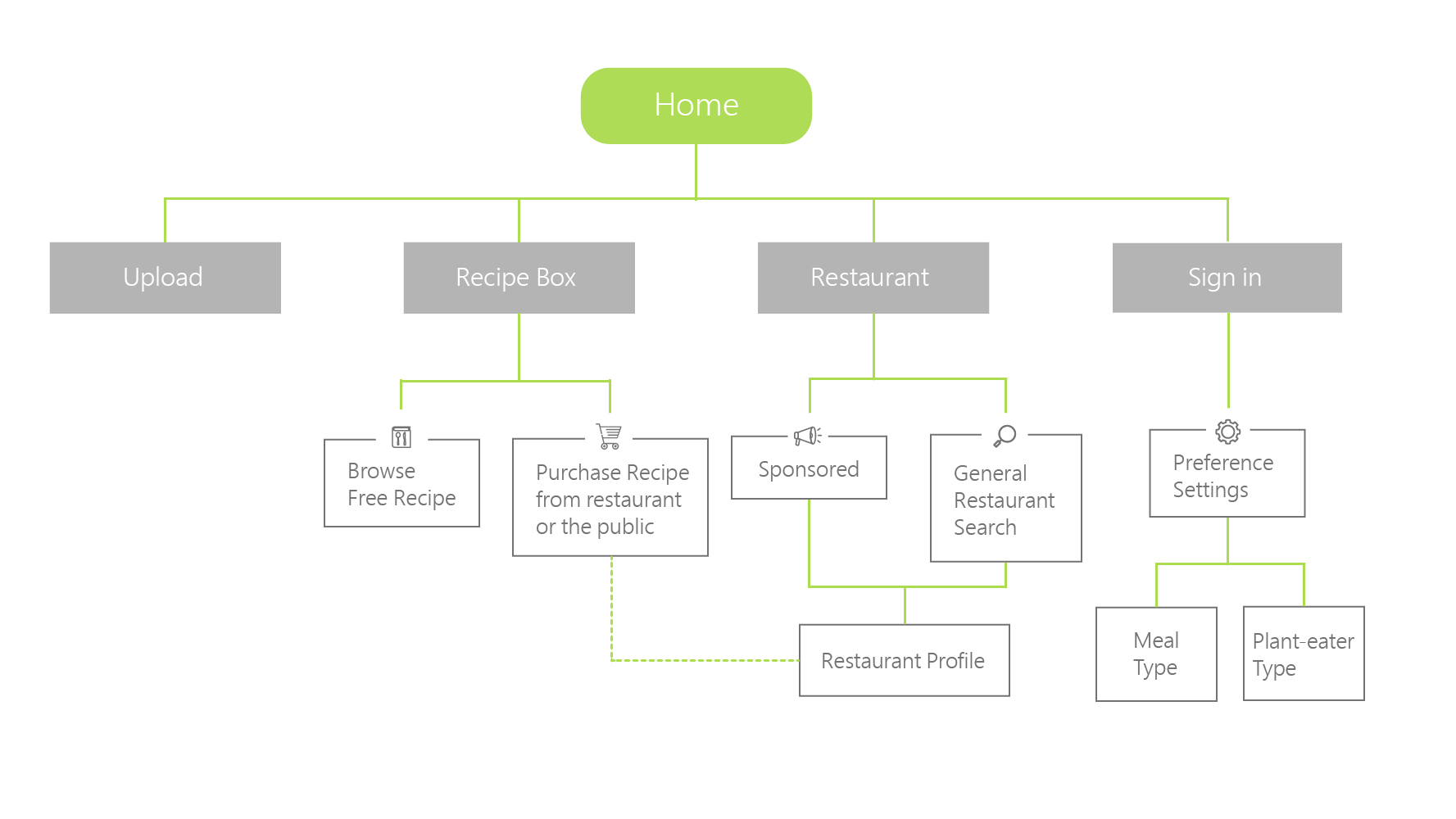 Mockup
Recipe Box
The site does not publish recipes of its own but a "meta-search" site that aggregates recipes from hundreds of other vegan food blogs, recipe sites and locally owned vegan restaurants.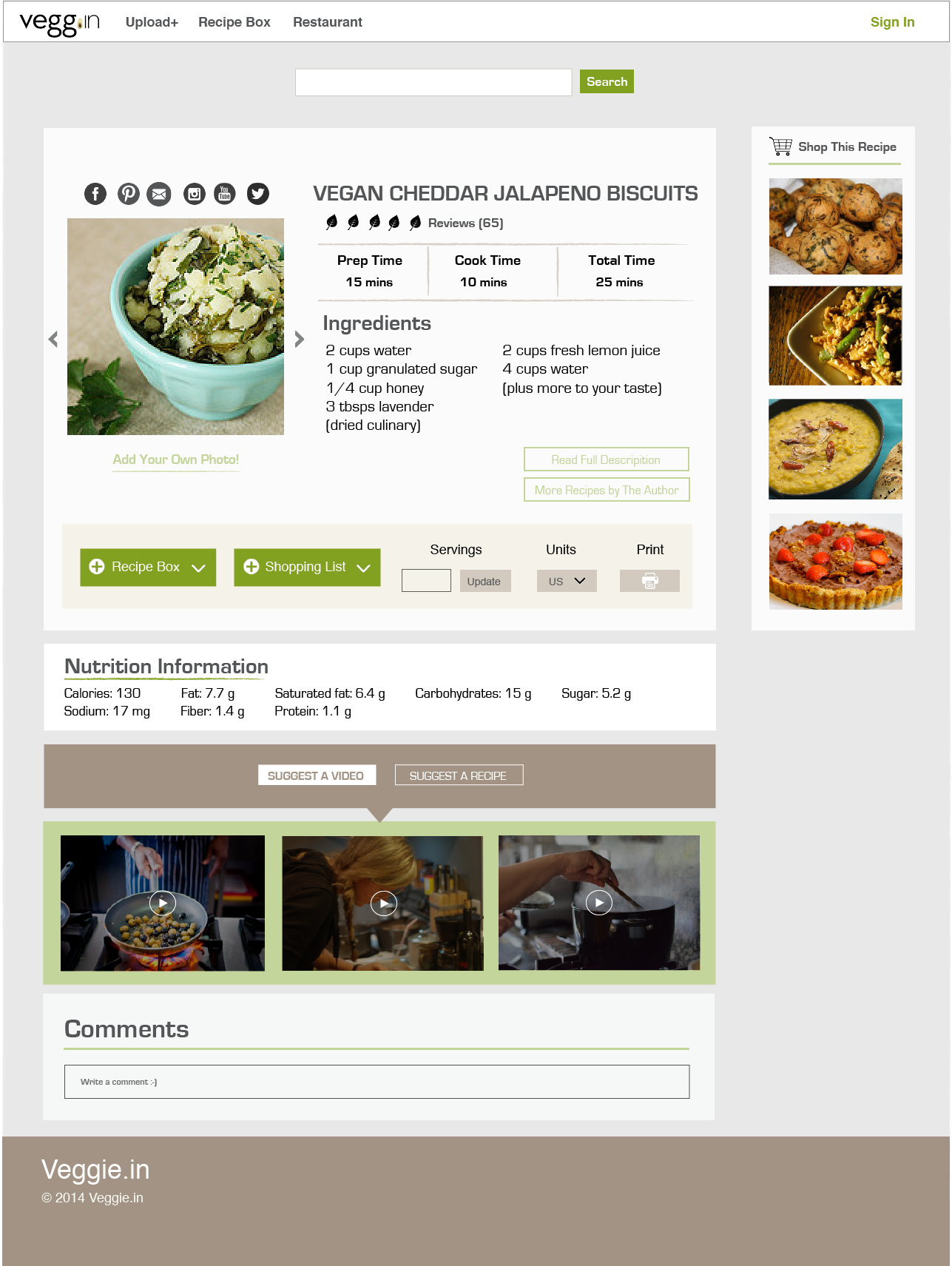 General Restaurant Search Page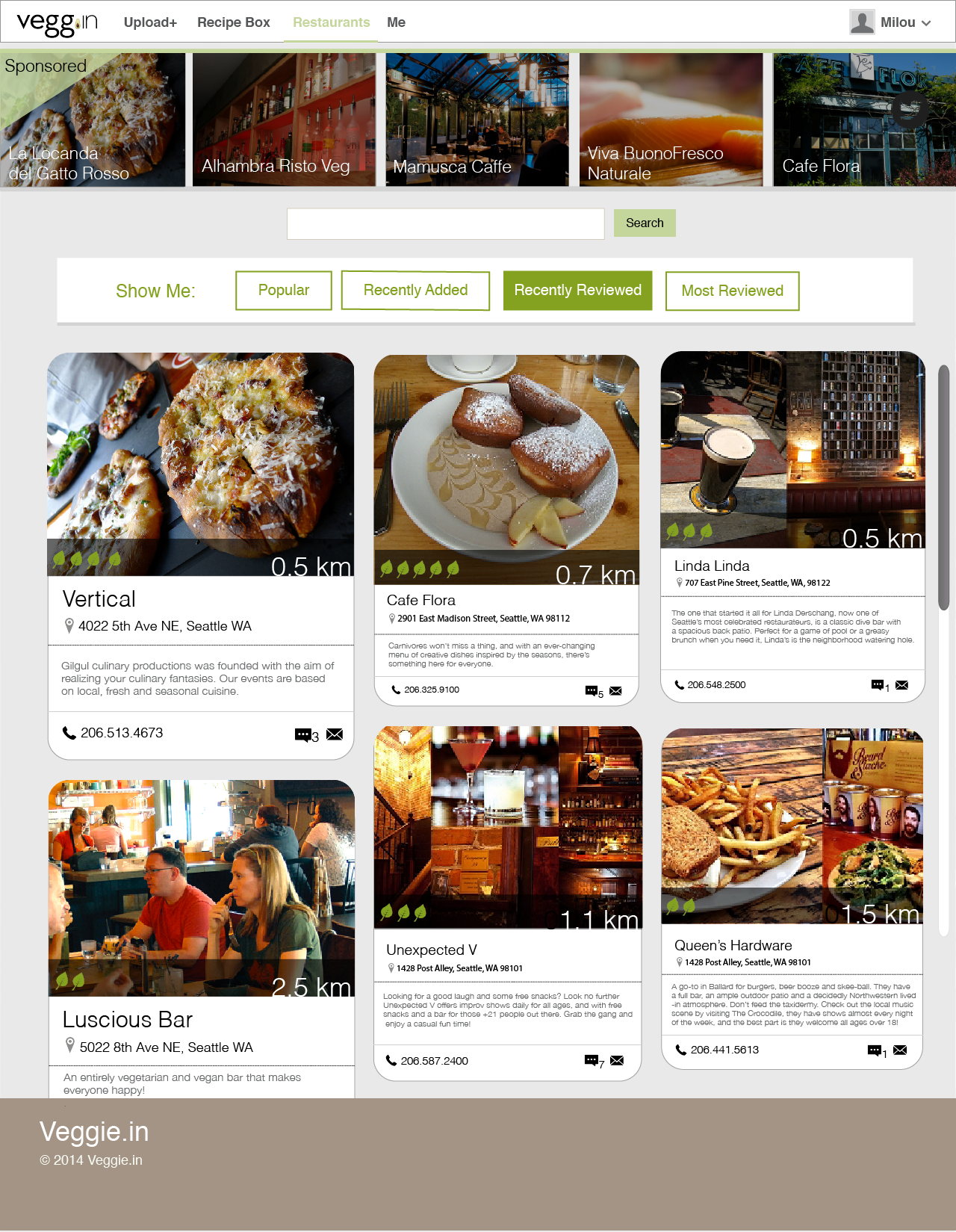 Restaurant Detailed Page
The site also aims to help locally owned vegan restaurants connect with locally minded customers, get them in the door and keep them coming back or trying their recipes.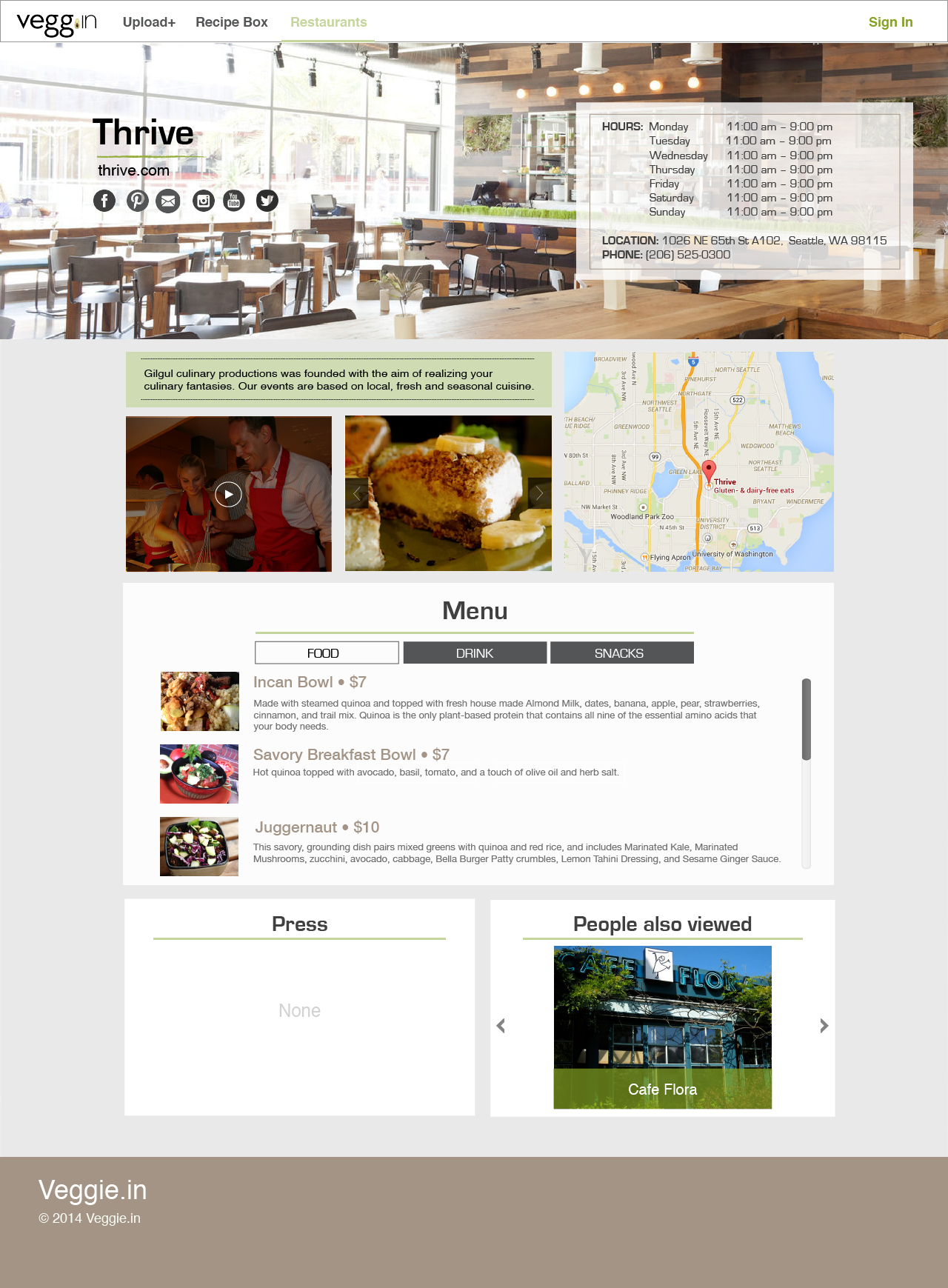 ---
Results
The team is currently modifying the business plan and some of the features so the site has not launched yet. The site plans to launch in the coming Fall 2014. We would like to contact more locally owned restaurants as business partners to provide vegan users varieties of great recipes and also promote more local restaurants to the community.
---
---